Top-Quality Vibration Monitors
Whether you need a local display, alarm and shutdown capability, data recording, and the ability to communicate using Modbus over Ethernet TCP/IP; or you need to trend waveform and transient data to provide a predictive look at your machine's condition, Metrix has a solution to meet your machinery monitoring requirements.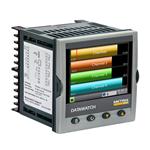 This compact device that can be held in the palm of your hand and has a vivid display.  It comes standard with four (4) isolated channels, and has the option to handle eight (8) non-isolated channels.  If you need more channels, you can put units next to each other.  It is made to handle any 4 to 20 mA input, and is perfect for the Metrix ST6911 Acceleration and ST6917 Velocity Transmitters.