Quality Proximity Drivers
Metrix Vibration is the premier supplier of proximity drivers for all industries using large-scale equipment. We work daily to maintain our 50-year reputation by helping every customer, regardless of size or industry, find and deploy the vibration monitoring system that meets their exact needs, including helping choose individual components and proximity drivers.
What are Proximity Drivers?
A proximity driver is a sophisticated electronic hardware device that functions as the heart and brain of a high-end proximity sensor system. Such systems are used to detect things like industrial equipment vibrating outside of their tolerances, which can have huge implications for safety, efficiency, and machine wear and tear. A high-quality proximity driver from Metrix allows your systems and engineers to glean usable data from the outputs of your proximity drivers and the various electronic sensors connected to them.
Why Choose Metrix as your Premier Supplier of Proximity Drivers?
Metrix Vibration's equipment and experts serve operations in diverse fields, from Oil & Gas to Water and Wastewater Treatment and more. Any organization that uses large industrial machinery like motor pump combinations, turbines, generators, compressors, fans, and reciprocating compressors can benefit by keeping their staff and equipment safe with a comprehensive vibration detection system based on the Metrix digital proximity system.

Industries and applications for Metrix proximity drivers include:
● Refining
● Oil & Gas Pipelines
● Power Generation
● Manufacturing
● Mining
● Water and Wastewater Treatment
● Public Works (water, electricity, and more)
● And more!
The Metrix proximity system can work with any monitor rack that accepts 200 mV/mil (7.87 mV/µm) or 100 mV/mil (3.93 mV/µm) proximity sensors. It is proven to work with multiple different manufacturers that produce monitor rack Vibration Monitoring Systems (VMS).

The MX2033 Driver can be ordered pre-configured for your exact application and if you need to change it in the field, you can do so using our free software and a mini-USB cable. The driver is field configurable and gives the user the ability to change probe types, system lengths from 1 to 12 meters, and numerous different common shaft material types. It even can work with unknown material types.

In a phase trigger application, one can actually adjust the amplitude of the pulse after the probe has been installed using our free software.
Metrix Proximity Drivers
If you have questions about Metrix Vibration and our line of high-end proximity drivers or other proximity detection and vibration sensing systems, please don't hesitate to reach out. We have been leaders in the vibration detection industry since founder Peter J. Sundt established himself as a pioneer in early seismic detection in the 1960s. Our friendly and knowledgeable staff will be happy to speak with you about your operation and to help you develop an end-to-end vibration detection system.

A quality assurance program that includes a network of vibration sensors and proximity drivers from Metrix may be one of the best investments you ever make in your business. Our vibration monitoring systems can employ our cutting-edge proximity drivers to save your expensive machinery from wear and tear — or even save your workers' lives — by detecting system issues before they become critical failures. The Metrix Vibration philosophy is to use simple, affordable components to build comprehensive vibration monitoring systems that quickly pay for themselves in the form of reduced machinery downtime and increased safety.

Contact our main Houston offices today to learn about our line of proximity drivers, proximity transmitters, vibration sensors, seismic measurement components, and related equipment. We look forward to helping you design and implement a safer, more efficient vibration monitoring system for your operation.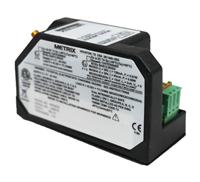 The Metrix proximity system can work with any monitor rack that is advertised to accept 200 mV/mil (7.87 mV/µm) or 100 mV/mil (3.93 mV/µm). It is proven to work with multiple different manufacturers that produce monitor rack vibration monitoring systems.