Metrix Vibration Transmitters
The MX2034 proximity transmitter provides thrust, radial vibration, or shaft speed measurements directly to PLCs, DCSs, SCADA systems, or other instrumentation that accepts an ISA standard 4-20 mA signal, without the use of a separate monitor system. The 4-wire model also includes the raw signal that can be sent to a monitoring system. The transmitter is powered by +24 Vdc, supplied by the current loop. A short-circuit protected BNC connector provides convenient access to the raw vibration signal when connecting to signal analyzers, portable data collectors and test instrumentation.
The transmitter is field configurable and gives the user the ability to change probe types, system lengths from 1 to 12 meters, and numerous different common material types. For speed systems, we have provided custom 18-meter systems. It even has the ability to work with unknown material types. In a phase trigger or speed application, one can actually adjust the amplitude of the pulse after the probe has been installed.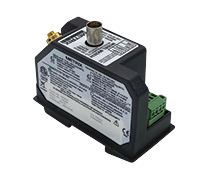 The Metrix MX2034 Proximity Transmitter is field configurable for radial vibration, axial position or speed measurements. It combines the performance of a fully API 670-compliant eddy-current proximity measurement system with the flexibility of digital configurability. Users can order exactly what they want, or they can configure their transmitter system in the field using Metrix' free software. The MX2034 can be field configured for over 40 target materials, a variety of probe tip diameters, different manufacturers, extension cable lengths, and linear ranges. It is the ideal spare part.

The MX2034 is capable of eliminating cross-talk between two adjacently installed proximity probes, the dynamic output signal measured at the BNC can be configured for positive or negative polarity depending upon the application, and transient electrical spikes can be suppressed in the system because the sensor samples at such a high rate (18,000 times per second). There are many other advanced features of the MX2034 that customers can take advantage of to optimize the value of their transmitter system. Metrix has the probes, cables, and accessories to meet your needs.