Seismic Velocity Sensors
What Are Velocity Sensors?
A velocity sensor is a device used to measure the change in distance over time. As the vibration amplitude increases, the output of the sensor increases. Velocity sensors are also available in a variety of shapes, sizes, sensitivity levels, and technologies. They are commonly used for measuring the speed of moving objects, such as vehicles or machinery.
How Do Velocity Sensors Work?
There are two different types of velocity sensors – solid state and moving coil. The solid-state velocity sensor actually uses an accelerometer along with an integration circuit and an amplifier that produces an output proportional to the velocity seen by the sensor.
A moving coil velocity sensor is made up of two main components - a moving coil and a permanent magnet in whose magnetic field the coil is moving and generating its own power. Any given vibration input will induce generator action (electromotive force) producing a voltage, which is proportional to the input velocity of the sensor.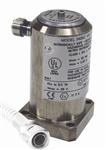 This is a moving-coil velocity sensor designed for machinery applications with surface temperatures up to 375 C like industrial gas turbines. It self-generates a signal, requiring no external power source, and can provide highly accurate vibration measurements because of its zero-friction coil suspension. Its stainless-steel case makes it long-lasting, so there is no worry about replacing it often. Most standard gas turbines provide mounting compatibility for this sensor.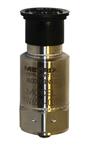 This sensor is similar to SA6200A, but with an internal integration circuit that provides an output directly proportional to velocity instead of acceleration. It is appropriate for most general-purpose machinery monitoring applications. This sensor is designed to replace moving coil devices, which have moving parts that cannot always be mounted on any axis. The sensor is protected by an isolated stainless-steel casing. The device is compatible with vibration monitoring systems, electronic switches, and 4-20mA signal conditioners.
Rely on Metrix as Your Velocity Sensor Supplier
At Metrix Vibration, we have been safeguarding your machinery and your team for over 55 years. We serve a wide variety of industries worldwide, including petrochemical, oil and gas, pipeline, power generation, water, and chemical. Our quality sets us apart from our competition.
Our catalog showcases the wide range of vibration monitoring solutions equipment we offer and provides detailed descriptions of each product. If you are ready to place an order, visit our online store, where you can create a quote or buy today. For additional questions and concerns, reach out to contact us, and a member of our team will be happy to assist you.